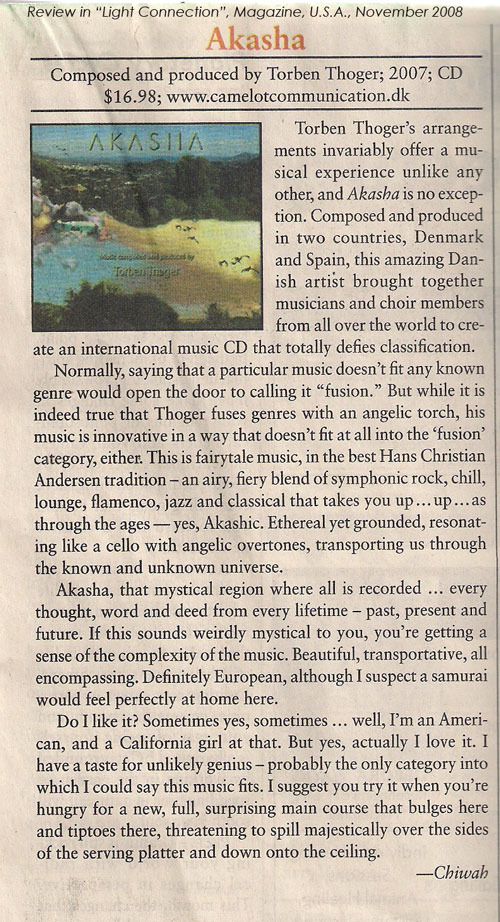 ---

Mattias Xpress, Jun 3rd, 2008 

Torben Thøger: My New Hero
I'm telling you, Europe is where it's at. I don't know what it is that makes European composers immensely talented and incredibly creative. 
Is this statement entirely true? I doubt it; but it's an opinion, and it's my opinion, so there. 
Anyway, I had the pleasure of listening to Thøger's new album "Akasha", and it is everything new age music should be.
Unfortunately, new age tends to be the victim of unfair criticisms by a lot of composers and musicians alike, saying that this type of music is too simplistic, lazy and predictable. That's a real pity. A lot of contemporary composed music that's not done in anyacademic hyperseralist style tends to be tossed with the "classical" or "new age" label. I guess it ultimately depends on the way the music is put together.
Akasha is pretty much a composer doing what a great composer should: every possible existing element in order to create the best sound possible. Now, I don't know for sure whether or not Thøger actually did some experimentation with the audio, or if he had a lot of assistance, but the sound is being manipulated in a way to give him full control of the sound. Not all of the tracks on the album have this type of sound experimentation, but the ones that do are done in just the right amount. It's not overkill by any means. It's just great.
Now, I should probably clarify what I'm talking about. This is by no means ambient music. Some elements are a little bit eccentric,but all and all, it's fully composed music. It's also great. In all seriousness, for those who have iTunes, log on, download the album for $10. It's over an hour of music, and it's awesome.
___________________________________________________________________________________________________
 
New Age Reporter:
AKASHA by Torben Thoger
- posted by Beth Hilton on May/12/2008
#1 on SoundScapes!
AKASHA debuted at #10 at New Age Radio in March, (NOW NUMBER 7) and the track "A Wonderful Place" has spent weeks at #2, now #1 on Music Choice' SoundScapes channel. This is an eclectic CD of "heart" chakra music that seems to defy categorization ... check it out for yourself. Also see the interesting "making of" video at www.camcom.dk! Psychics aid this musical vision!


Rating: Excellent
_________________________________________________________________________________________________________

AKASHA touches the listener's heart and relieves the soul with inexpressible easiness, joy, compassion and sincere emotions.

Torben Thoger's music is full of joy and compassion. And some inexpressible easiness is present in his light melodies. Torben Thoger is a gifted melodist. One can feel the charming aroma of classical music in his compositions.

The music of "Akasha" is very sensitive. It touches the listener's heart and relieves the soul. Many musical styles and genres are interlaced in Torben Thoger's melodies. It can be surely named new age because this is global, all mankind music.

The musical language of "Akasha" is a very expressive and at the same time it is very clear. The artist generously splashes out sincere emotions and all his heart's energy in his inspired music. "Akasha" is a beautiful sample of music for release and revival. It is an hour and a quarter of pure listening pleasure!

Serge Kozlovsky (Minsk, Republic of Belarus)
http://sergekozlovsky.com
_________________________________________________________________________________________________________
Truly fascinating and otherworldly  
Review by Jonathan Widran (USA)

It's always fun to dig into the creative souls of inventive new age musicians and see what makes their spirits tick. Usually, as in the case of Danish composer and multi-instrumentalist Torben Thoger, the concept is at least as interesting as the music that flows from it. His liner notes explain that his unique synthesis of classical, rock and new age--which artfully and excitingly swirls symphonic textures, lush piano melodies, Eastern sitar touches, choral passages and flamenco guitar energies--comes from the idea of Akasha. He explains that this is a 5000 year old Sanskrit word that means "ethereal energy," the first of five material elements of which the physical universe is composed. Every thought, word and deed from the past is recorded in the Universal memory called the Akashic Record. The past is the key to understanding the future. Even if you're grounded in a more material reality, Akasha can be enjoyed solely on its musical merits. Thoger divides his studio time between his home on the Danish Isle of Samso and another in Spain. The Spanish influence is gloriously apparent on one of the most intriguing and expansive tracks, "Chilli Flamenco," which as its title suggests, combines over nearly ten minutes, gracefully exotic flamenco guitar strains, ambient synth washes, spicy electric guitars and seductive rhythms. The fun part of great new age music is that the artist can synthesize any element he or she wants and for as long as it takes to make the listener feel relaxed and/or transcendent. On the opening title track, Thoger achieves this with a blend of bright classical piano and the mystical solo violin of Armando Garcia, enhanced with a soaring electric new age jam vibe. Other tracks like "Beyond Boundaries" dig deeper spiritually via darker moods, heavier rhythm patterns and ancient choir and chant touches. The collection culminates with a trippy and ultra-hypnotic "IAO" chant that takes us higher for exactly 11 minutes. Along the way, Thoger achieves his aim of delivering the many sounds of love with sounds that are passionate, joyous, wistful and gentle. Truly fascinating and otherworldly.   

Click to read the U.S. review by Jonathan Widran directly on "AllMusic.com" 
_____________________________________________________
 
March 2008,
FIRST CLASS CHICK MUSIC 

TORBEN THOGER/Akasha:  A Danish new ager that's a Spaniard in his heart, Thoger puts his slightly different spin into the new age game with music for massage and listening.  Since he walks it like he talks it, you can feel the holistic edge he has in his personal life as a guiding hand in the music.  Often with a Euro light classical feel working it's way through the world/jazz overlays, Thoger knows how to make first class chick music for the stressed out Oprah fan on her way to getting her nails done.
Chris Spector
Midwest Record 
www.midwestrecord.com
www.myspace.com/midwestrecord

__________________________________________________________________________________________________________
 
AS IT IS IN LIFE: Torben Thoger's Holistic Album AKASHA
 
By Beth Ann Hilton
An exciting new U.S. release, Torben Thoger's AKASHA delivers the many sounds of love – passionate, joyous, wistful, 
gentle – from his studios in Denmark and Spain straight into every listener's heart.
AKASHA's uplifting blend of audio visions includes lush compositions and exotic live performances, occasionally 
accented with heavenly vocals. It is an adventure in active listening and musical storytelling for modern New Age 
fans, incorporating elements of symphonic rock and chill out music throughout the traditional compositions. 
Although not composed with this in mind, keen listeners might imagine the succession of tracks as a journey of soul 
mates seeking one another, finding, loving, dancing and, finally, returning to oneness, as AKASHA culminates with a 
breathtaking IAO chant.
Torben Thoger consults modern-day seers to assist him on his musical path, explaining, "The Akashic Record contains the 
most important and vital information about our soul's purpose and journeys in the past, in this lifetime, and it can provide 
a guide for the future. We all share fundamental ideas and consciousness. Whenever we are inspired or feel intuitive, it all 
comes from the AKASHA energy that surrounds us. This CD comes from my heart – and AKASHA."
AKASHA, a word which comes from the 5000 year old Sanskrit language, is known (in esoteric circles) as the ethereal 
non-visible energy, the first of the five elements of which the physical universe is composed (AKASHA, air, fire, water and earth). 
Every thought, word and deed from each lifetime in our past, along with every event in which we participated, is recorded 
in the universal memory called the Akashic Record.
The music on the albums and tracks is composed, arranged and produced by Torben Thoger, and he performs and programs 
most of the instruments and effects himself. Torben collaborates with international artists like Pepe Bornay, who adds spice 
with Spanish guitar, rhythm guitar and Latin American instruments on the albums The Present and AKASHA. 
Cuban musician Armando García Fernández plays the haunting solo violin parts on those albums as well. The choir 
from the stagegroup Teatro del Sol from La Nucia, Alicante, Spain sings the mesmerizing IAO chant on AKASHA, directed by 
Rob Barendsma.
"New Age Music is truly international, as we can experience with Danish film composer Torben Thoger. His style is influenced 
by different cultures and styles and he blends classical, world and pop elements into a tapestry of colorful, relaxing and 
soothing soundscapes. His music moves through various New Age styles and will appeal to many different audiences," 
predicts New Age music pioneer Suzanne Doucet, principal of Only New Age Music. "This album reminds us that, ultimately, 
it is not a singular style that makes music New Age - it is the underlying Spirit and effect the music has on the listener."
If you enjoy music by Yanni, Vangelis, Ottmar Liebart, Steve and David Gordon, Tangerine Dream, David Arkenstone, 
Manheim Steamroller, Chris Spheeris, Michael Hoppe, Omar or Ray, then you will want to experience Torben Thoger's 
music. His fans may be inspired to invent a few new terms for his music, such as Integrated New Age or Holistic New Age.
Ultimately, AKASHA is a "mature" holistic new age album in the sense that by integrating different styles, it reflects all facets 
of life in a transformational way; for instance, once one explores different "spiritual paths" in life, they return as a whole 
"integrated" person. Torben never stays with one pattern or concept, as if to say, once one has tried all formulas, there 
is no longer a need need to isolate with one formula. His music is, like us, constantly changing; as it is in life!
Torben Thoger produces his music from studio facilities at his home in Torup on the Danish isle of Samso, and in Callosa 
den Sariá, Alicante, Spain. He is a professional composer, and the proprietor of Camelot Communication, a Danish 
company creating and producing music, film, multimedia and arts. Thoger is a member of "DJBFA - The Danish Society 
for Songwriters and Composers."
Genres: New Age crossover with Pop/Jazz/World. New Age Sub-listings: lounge, smooth jazz, melodic, uplifting, 
relaxation, healing, meditation, massage, chillout, classical, rock.
Torben Thoger's albums AKASHA, The Present and Harmony are available in music stores and online at Amazon.com, 
CDBaby.com, iTunes and others, in both CD and downloadable formats. One can visit Torben's website at 
www.torbenthoger.com for more information.
# # # ##
Author's bio: Beth Ann Hilton reports on the good things in life, from relaxing music to green products and organic 
foods. Her three-year old son is her greatest teacher. 
Online Resource Box:  For more information, special music offers, and contests, visit Torben Thoger's website at 
Genres: New Age crossover with Pop/Jazz/World/Classical.  New Age Sub-listings: lounge, smooth jazz, melodic,
uplifting, relaxation, healing, meditation, massage, chillout, flamenco, symphonic rock.


Feb 21, 2008
__________________________________________________________________________________________________________________________

Inspiring
"Torben's style is influenced by different cultures and styles and he blends classical, 
world and pop elements into a tapestry of colorful, relaxing and soothing soundscapes. 
His music will appeal to many different audiences," says Suzanne Doucet of Only New Age Music.
 _______________________________________________________________________________________________

Interesting and melodic. Sure to please even the most discerning.
Music Review 
by 
Michael Woodhead
---
AKASHA
(World)
This is one eclectic album.
However, that's pretty much what the composer promises in the liner notes--a mixture of symphonic, cinematic, rock, chill-out, lounge, jazz, flamenco and classical, all interspersed with various vocals. But, in spite of the divers genres, the entire album works.
This is because the basic theme of Akasha draws its inspiration from the ethereal, spiritual book of records where the past, present, and future are purportedly kept, and become accessible through prophecy and clairvoyance, or when you die.
So, the album could be an auditory representation of some 'lives' found in the Akashic Records.
Regardless of whether you believe in the parapsychological elements or not, Akasha serves up some interesting and melodic musical meals that are sure to please even the most discerning palate.
I must say, however, that the final track, IAO, provided me with some very unintentional laughs, but in no way do I mean to make fun of it or the album. It's just that, to me, the vocalists seemed to chant 'meow'.
_________________________________________________________________________________________________________
 
Accessible and deep like a fairytale by Hans Christian Andersen

It is easy for me to believe that new listeners will love this music. Why? 
Torben Thogers albums, though different, hold so many beautiful, varying tones and timbres. 
The music is readily accessible and deep like a fairytale by Hans Christian Andersen. 
Much of it is eventful and ones mind creates extraordinary wonderful experiences. 
Torben Thoger definately knows how to compose a room of music in which you feel at ease. 
(From review by journalist Jens Peter Stephansen,  Samsø, Denmark, March, 2007.)
 

---