The Sound of Harmony:
 
The world would have been a better place if more artists created music like Torben Thoger. His album entitled Harmony is, as you might guess, a collection of truly harmonic music. All five tracks on this album are beautiful beyond words. It is music for the soul. But as with all of Thoger's albums, the sound is never simple. There is a depth here, something poetic and romantic. The layers of rich synths, strings and piano are creating a pleasant soundscape. I must also mention the nature sounds Thoger uses, the running water and waves, in just the right amount. All the tracks are long, one over 16 minutes.
My favorite is the ethnic sounds on track five, Of Our Dreams. It is like a book with five happy fairytales, told with music. We all need harmony, right? The album can be bought on Amazon, CDBaby, iTunes or other music outlets.

A Sensitive, Dynamic and Joyful Journey:

Harmony offers a sensitive, dynamic and joyful journey into a world that is rich in fantasy and beauty. Torben Thoger has found a balance where classical, world and healing music meet, creating a perfect atmosphere for relaxation. The instrumental music on this CD aims, among other things, to create a calming and balancing effect. It is intended to strengthen one's ability to undo an excess of stress, and to re-establish a natural flow of creative energy, bringing you in Harmony with your surroundings.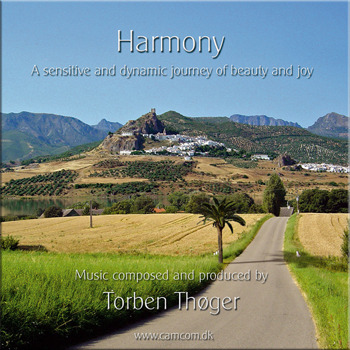 D O W N L O A D   F R E E   E-BOOK  ABOUT  MUSIC  AND  ITS  HEALING  EFFECT 
CLICK the link in blue below "How Music Influences Your Vibration. E-book" to download your free E-book:
How Music Influences Your Vibration. E-book. This e-book will explain the science behind how music influences your vibration. Torben Thoger's music is deliberately created and produced to enlighten and raise your energy vibration. The beautiful catchy melodies will literally touch you and have a strong calming and balancing effect, which will strengthen your ability to undo an excess of stress, and re-establish a natural flow of creative energy. 487 KB